About South Midwood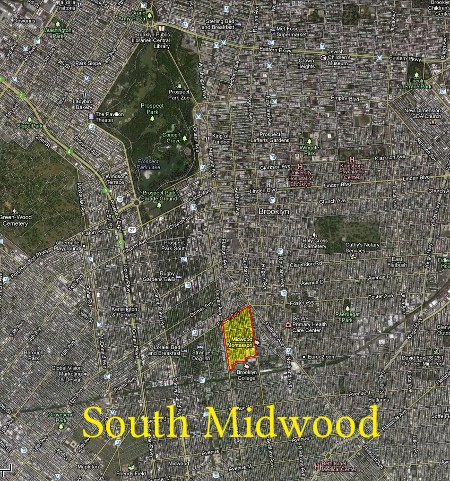 (click to enlarge)
South Midwood is a neighbourhood in Brooklyn comprised mostly of standalone Victorian-era houses. Originally part of the Town of Flatbush, the name South Midwood comes from the original Dutch Midwout, meaning "middle woods," which described the forested area between the towns of Boswyck (Bushwick) and Breuckelen (Brooklyn). It is the largest neighbourhood in Victorian Flatbush - south of Prospect Park - numbering around 400 houses.
All the land for South Midwood, West Midwood and Midwood Park was purchased from one man, John Lott, and was planned and built by the Germania Real Estate and Improvement Company, starting in 1892.
The neighbourhood has one of the oldest active community organizations in the country, with the South Midwood Residents' Association being founded in 1901.
In honour of the neighbourhood's centennial, the New York City Council restored the original names of South Midwood's tree-lined streets: Kenmore Place (East 21st Street), Elmore Place (East 22nd Street), Delamere Place (East 23rd Street) and Mansfield Place (East 24th Street).